Time-Lapse view for your public webcam
Compress time for your site visitors
More than a static webcam image
Capturing still images over time and showing in time-lapse playback gives a different perspective on your location or project. Your site visitors can see a full day in 1-2 minutes and see the real beauty of your place with weather and seasons.
Live time-lapse
Enjoy the live time-lapse view instantly using our frame-player. Select different ranges and playback speeds. Embed the player into your website.
Download Video files
Full resolution time-lapse videos are created every day at midnight. Download the H.264 videos in mp4, webm, ogg format for archiving or sharing.
Easy connection
Use FTP upload (push) or set up an image URLs (pull) to transfer images to our servers.
Learn more
Create Clips
Create clips from your time-lapse player by marking in/out frames. Clips are displayed below your time-lapse view and can show the highlights of you location, i.e. the best sunrise.
Text overlays
Add brand name and timestamp to your webcam images. Also dynamic data like temperature.
Learn More
Automatic exports
Archive your raw files and share rendered video files automatically. Automatic Dropbox and YouTube export.
Learn more
Embed the player into your website
Generate the HTML widget code for your webcam and embed it into your website.
This is what a time-lapse view widget looks like. Visitors can use controls to navigate through time and change playback speed.
There are code snippets to embed the full time-lapse player, last image or video. See an overview of live widget types here:
Widget examples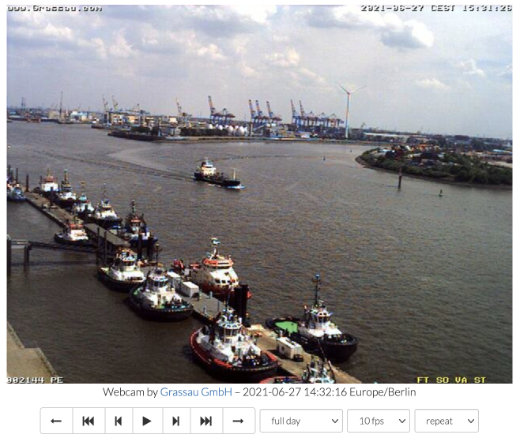 Try it for your camera or
Test all features during the 7-day LIVE+ plan trial. After that, you are moved to our free plan automatically. No credit card required.
Live streaming and time-lapse webcam hosting for site promotion, project monitoring and more. Since 2012.
Built with in Hamburg, Germany
100% green electricity servers