Stream your IP camera to YouTube Live
Easy live streaming setup
24/7 live streaming
Use our live streaming feature to connect your IP camera with YouTube Live and create a 24/7 live view of your location or project.
Reduce costs
With YouTube Live not charging anything, there is only the fixed monthly cost for your internet connection and our streaming plan per camera.
Save bandwidth
Streaming 24/7 videos with larger resolutions and even a few users likely saturates the bandwidth on your camera connection. Our service only establishes one connection to your camera.
For every device
The YouTube video player is available on a large number of devices, including TV and mobile. The player provides best user experience for bandwidth and device speed.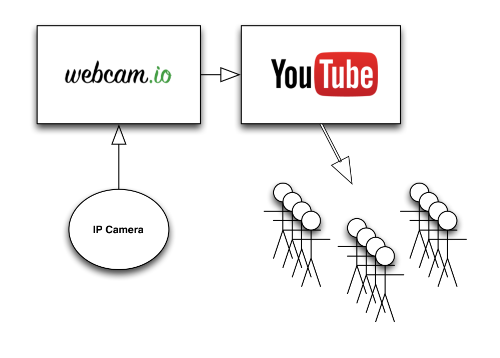 How it works
We connect to the live stream of your camera, transcode the stream on the fly and send it to YouTube Live. Your stream users only connect to the YouTube Live player (embedded on your website or via your YouTube channel).
We support the most common IP camera video streams:
RTSP or HTTP(S) input
H.264 streams (copy stream)
H.265, MJPEG, MxPEG Mobotix (transcoding)
Connection
Find the stream URL of your camera and set up your router, so we can connect to your camera stream.
YouTube live
Create a live stream in YouTube; copy the URL + streamkey.
Setup
Create a live stream in webcam.io, use the URL + streamkey as destination, stream URL (step 1) as the source.
Done.
Wait for your stream to startup and stabilize. If there are problems, we are glad to help you with the setup.
Try it for your camera or
Test all features during the 7-day LIVE+ plan trial. After that, you are moved to our free plan automatically. No credit card required.
Live streaming and time-lapse webcam hosting for site promotion, project monitoring and more. Since 2012.
Built with in Hamburg, Germany
100% green electricity servers